A simple visit to the doctor creates anxiety for a lot of kids. That's why Iowa ENT Center has child life specialists on staff to help kids (and parents!) during appointments, procedures and surgeries. This service is available at no added cost.
What are child life specialists?
As experts in child development, child life specialists aim to reduce kids' fears by providing support during medical exams or procedures.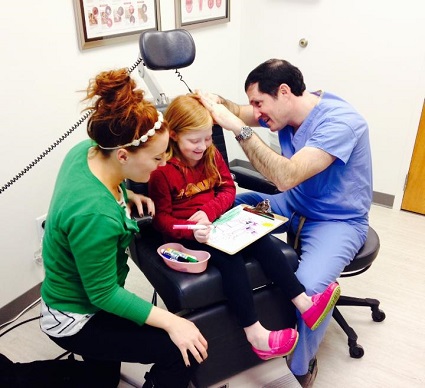 To do this, they bring fun and play to the doctor's office using a variety of techniques, including distraction, rehearsal and education. They also provide emotional support to families and encourage optimal development of children facing challenging experiences, particularly those related to healthcare.
Child life specialists:
Help kids effectively manage stress and teach effective coping skills
Use play to help unfamiliar settings feel "normal"
Answer children's questions and clarify misunderstandings with developmentally appropriate explanations
Empower children to take control of their medical experiences
Educate and support siblings
Meet our child life specialists
Courtney Mergen is certified as a child life specialist by the Child Life Council. She has a Master's degree in Human Development and Family Studies with an emphasis in child life from the University of Missouri-Columbia. She completed her clinical child life internship at University of Iowa Children's Hospital in Iowa City.
Our newest child life specialist, Jess Minnick, is also certified as a child life specialist by the Child Life Council. She's completing her Master's degree in child life at Bank Street College of Education in New York. And she completed a clinical internship at Blank Children's Hospital in Des Moines.
If you haven't met Jess yet, here are some of her favorite things!
Favorite distraction tool: Books (Look & Find, Poke-A-Dot and more)
Favorite color: Blue
Favorite animals: Elephants and camels
Favorite toy: ALL sensory toys
Favorite kids' movies: Inside Out and Trolls
How to use our child life services
If you think your child could benefit from a child life specialist, just ask for our child life service when you call 515-223-4368 to make your child's next appointment at Iowa ENT Center. We offer child life services at no additional cost.
Learn more about child life
Find out more about our child life services. The Association of Child Life Professionals also has great information on the profession.