Visits to the doctor can be stressful for children. And we know that anxiety only increases when kids are faced with chronic illness or the prospect of surgery.
That's why we've made it a priority to ensure every experience with our office is as positive as possible — for your child and the entire family. One way we do that is through the care and expertise of our very own child life specialists.
We're the only ENT clinic in the area with full-time child life specialists on staff. From initial office visits to the operating room, to recovery and back to Iowa ENT Center for follow-up, our child life specialists are there to advocate for your child's specific needs, every step of the way.
What does a child life specialist do? 
A key part of our team, our child life specialists are pediatric health care professionals who work with children and families to help them cope with the emotional challenges of illness and surgery. They help pediatric patients during general ENT examinations, in-office procedures, CT scans, audio testing, speech therapy, allergy testing and immunotherapy injections. They also work closely alongside pediatric ENT specialist Dr. Eytan Young — in addition to all our highly skilled providers and pediatric ENT nurses — both at Iowa ENT Center and outpatient surgery centers.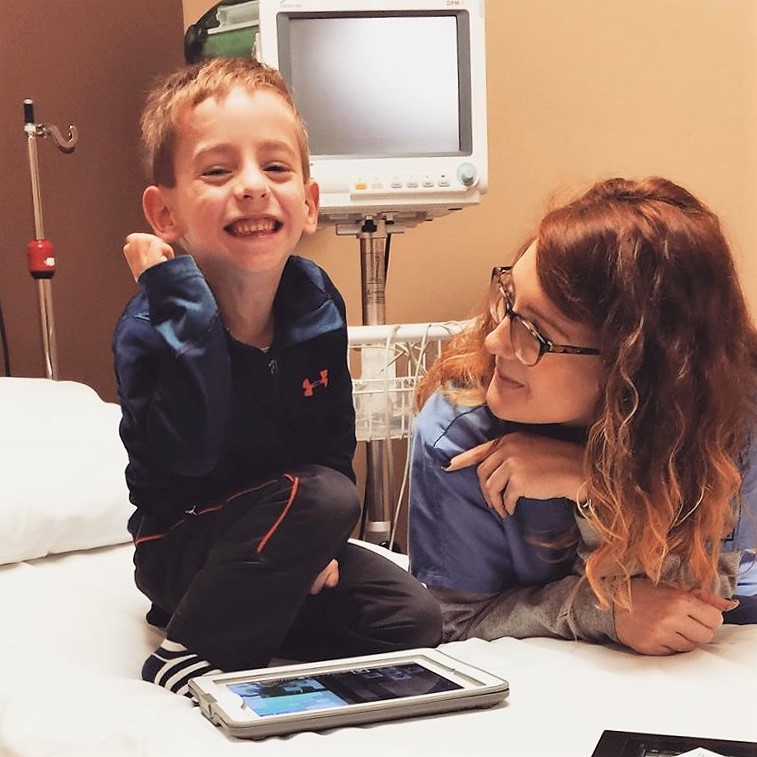 Our child life specialists:
Use play to introduce medical equipment and help "normalize" the experience for children
Help children cope with the experience through distraction
Ensure children are as prepared as possible through awareness, knowledge and coping abilities
Use relaxation techniques to help kids feel less stressed
Children of all ages cope with illness and surgery better when they know what to expect. Child life specialists help reduce anxiety and stress for both children and their parents heading into procedures – resulting in smoother, quicker recoveries, as well.
Who benefits from child life services?
Children
…who don't enjoy doctor visits
…who are anxious
…with mental/behavioral/sensory disorders
…undergoing surgery
…who are information-seekers
…with special needs
Families
Siblings
Advancing the profession
Iowa ENT Center believes in the importance of child life services – after all, we've seen the positive impact of this type of care on our patients (and their parents). So we support developments and research in the program as much as possible.
Iowa ENT Center is leading the way in child life by:
Partnering with the Waukee School-to-Work program and offering a child life rotation/internship
Offering practicum rotations to University of Iowa child life graduate students
Hosting an internship rotation for child life students completing their internship at Mercy Hospital
Staying active in several research studies, including:
– Satisfaction of parents and patients experiencing child life services during in-office procedures
– How child life services impact parent, patient, and physician heart rate during in-office procedures
– Examining different preparation modalities for children undergoing tonsillectomy
– Implementing in-clinic virtual reality studies
If you think your child would benefit from one of our child life specialists, just ask for that service when you make your appointment. Child life services are provided at no additional cost.