Chronic tonsil issues can have a serious impact on a child's quality of life, leading to a seemingly endless cycle of sore throat, strep, snoring – even behavior problems.
If your child suffers from these recurring issues, you could use some relief, too. Chronic throat and breathing problems usually lead to missed school for your child, missed work for you and missed sleep for everyone.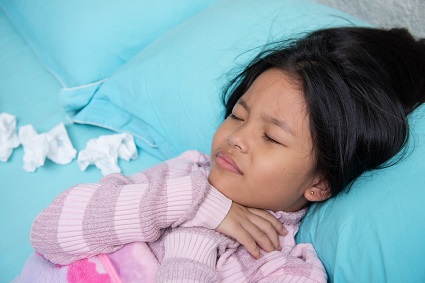 Iowa ENT Center can help. Removal of infected/enlarged tonsils – or tonsillectomy – may significantly improve your child's quality of life, not to mention his or her overall health.
Symptoms
The following symptoms are often associated with infected and/or enlarged tonsils:
Chronic sore throat
Chronic strep
Difficulty swallowing
Loud eating habits (as if they can't breathe through their nose)
Severe nasal obstruction
Snoring and/or restless sleep
Heavy, labored breathing
When to consider a tonsillectomy

A tonsillectomy may be the best option if your child has:
A severe sore throat seven times in one year, or five in each of two years or three in each of three years

A throat infection severe enough to cause an abscess (which is an area with pus and swelling) in the back of the tonsils

Tonsillitis that isn't relieved by antibiotics

Impaired breathing as a result of swollen tonsils and adenoids

What to expect from Iowa ENT Center

At Iowa ENT Center, our otolaryngologists have decades of experience treating tonsil problems and performing tonsillectomies. We're also fortunate to have Harvard-trained Dr. Eytan Young, M.D., on staff – the only pediatric otolaryngologist in the Des Moines area. 
Beyond the procedure itself, we understand that any surgery can be frightening for children – and stressful for parents. That's why we do everything possible to make the experience a positive one, minimizing anxiety and fear, and nurturing your child through the process with the very best quality of care.
That's where Jessica Minnick, CCLS – our Certified Child Life Specialist – comes in. From initial office visits to the operating room, to recovery and back to Iowa ENT Center for follow-up, Jessica is tuned into individual issues and needs. She's there with each child – and family – every step of the way.

What to expect from a tonsillectomy

Our physicians use the very latest technology for tonsillectomies – coblation. Coblation has become the standard due to:
Ease of use
Speed of the procedure
Improved recovery (faster recovery = less pain)
Another option is an intracapsular tonsillectomy (or "inside-out tonsillectomy"). Data has suggested this procedure may provide even better outcomes – especially in terms of pain management.
At Iowa ENT Center, we know that the procedure itself is just one part of a successful surgery. We believe the care that follows is every bit as important. That's why we offer highly trained, pediatric ENT nurses to take calls, answer questions, and – along with our physicians – help manage your child's pain and recovery with the most advanced techniques possible.

Helping you make an informed decision

We want our patients and their families to feel as comfortable and informed as possible. To schedule an evaluation with one of our physicians, call us at 515.223.4368. Or request an appointment online.
Request an Appointment